Optional Solid State Drives
Pages Load Up to 300% Faster!
Host your site on one of our blazing fast Solid State Drives (SSD)! According to performance tests, our SSDs will load your site up to 3-times faster compared to a normal hard drive. We even use SSDs for our own site!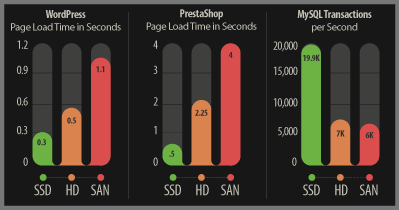 You don't like slow websites. Neither do your visitors! Google even grades faster sites higher in their search rankings. With each second delay in loading your site, the likelihood of your visitors finding their information elsewhere increases. According to an Aberdeen Group study, just a 1-second page load delay can cause a:
7% decrease in your conversion rate
16% decrease in visitor satisfaction
11% fewer page views
Choose our SSDs to give your site a performance boost to help raise your conversion rate and visitor satisfaction. While standard hard drives can only perform hundreds of input/output operations per second, our SSDs perform thousands every second! With no moving parts and no bottlenecks, our ultra-reliable SSDs can help your site really fly!