Aug 07, 2019
0
by

A2 Marketing Team
One of the best ways to drive engagement is to build a sense of community around your website. However, there are many ways to do that. If you're not sure how to get started, it's worth considering starting up a forum.
An online forum can provide a lot of additional engaging content for your audience, much of it user-generated. It's also a place for visitors to interact with you and with each other, helping you build trust and long-term relationships with your audience members.
In this article, we'll take a quick look at why forums are such a valuable tool. Then we'll introduce the open-source phpBB software, and offer some advice for getting started with it. Let's get to work!
An Introduction to Online Forums
Forums have been popular on the internet since as early as 1994. They provide information in the form of user-created posts, allowing members to comment and interact with one another. Typically, topics are arranged into threads based on their subjects, making it easy for newcomers to find what they're interested in:
Forums can drive engagement with your audience in a variety of ways. They can:
Add quality content to your website
Form a sense of community around your brand
Answer readers' questions
Attract new audience members, readers, and/or customers
Although it's easy to think of forums as an outdated form of communication, they're actually still both popular and valuable. If you're hoping to create a strong community of any kind online, a forum may be your best tool.
While there are many forum-building solutions, let's look at one of the most popular options. phpBB is a free, open-source tool:
phpBB offers a lot of useful features. For example, it enables you to set up any number of forums and categories. In addition, you can assign specific permissions to different forum members, which makes it easy to assign moderators and create various user groups.
As its name suggests, phpBB is written using the PHP programming language. That and the fact that it's open source makes it a fully customizable piece of software. What's more, there are a host of community-built extensions that you can download and purchase to further extend its feature set.
All in all, phpBB is a feature-rich option for running a forum, either as a standalone project or connected to your existing website. It's easy to find online help from developers, and the styles database has hundreds of packages to choose from to make your forum look unique.
How to Create a phpBB Forum (In 5 Steps)
The best way to decide whether to use a specific tool is to see it in action. With that in mind, let's walk through how to use phpBB to create a brand-new forum.
Before you begin running a forum on your website, it may be a good idea to contact your hosting provider to make sure your site meets the server requirements for the increased traffic. Then, you're ready to get started!
Step 1: Download and Install phpBB
The first thing you'll need to do is download the phpBB software. Click on the Downloads tab at the top of the phpBB website. From there, you will see the following screen:
Select the orange button to download the latest package. Once the download is complete, unzip the file and install phpBB on your computer. When that installation process is finished, you'll be ready to set up your forum.
Step 2: Register Your phpBB Forum Administrator Account
With phpBB installed, you'll now need to register an administrator account in order to use your forum. Click on Register in the top-right corner of the page and you'll be asked to agree to the user terms:
Choose I agree to these terms, and you'll come to a screen where you can input your personal information:
Here, you can create a username, enter your email address, and choose a password. Then select your language and time zone. Finally, fill in the confirmation code as it is displayed on your screen, and click Submit.
Now that you have an administrator account to manage your forum, you can sign in and begin setting everything up.
Step 3: Set Up Your phpBB Forum
At this point, you'll want to click on Login in the top-right corner of the page and fill in your username and password:
Once you've logged in, you'll return to the Board Index page, which is the home page for your new forum's dashboard. This is where you can begin to set it up.
First, click on your username in the top right-hand corner of the page, and select User Control Panel:
From this page, you can set up your profile, choose your desired board preferences, see your private messages, and create and assign user groups at will. It's a good idea to spend some time going through the various settings here, and familiarizing yourself with the basics of what phpBB can do.
Step 4: Start Creating Content
Now, you're ready to add some engaging content to your forum. You'll need some interesting topics to get conversations started and to attract new members. To do that, click on your forum and select New Topic:
Fill in your topic's subject and write your first post. It's best to focus on strong content that provides some kind of value for your target audience:
Add as much content as you can, to increase the chance that visitors will find something interesting to engage with. phpBB enables you to organize your content by categories and threads, which should help you keep your forum from ever becoming overwhelming.<
Step 5: Customize Your phpBB Forum
Finally, you'll probably want to customize your forum to match your site's branding. You also want your forum to be unique and memorable, so people will keep coming back for more.
Fortunately, there are a number of resources to help phpBB users do just that. On the phpBB home page, you'll find a link to the Styles Database: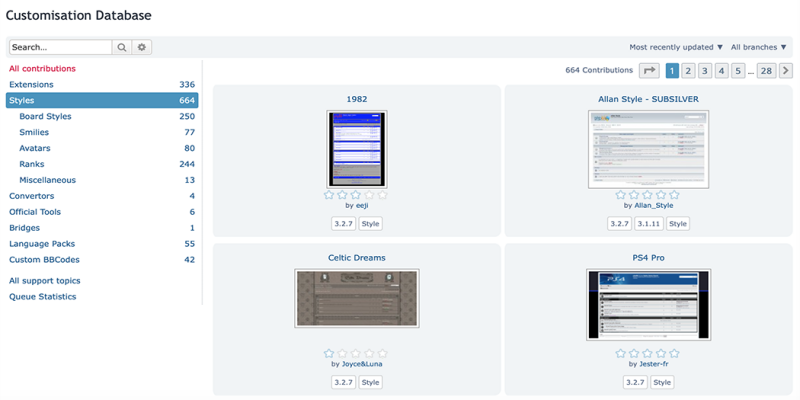 This page provides hundreds of options for customizing the look and feel of your forum. In addition, you'll find a host of user-created extensions to choose from:
There's a large community of developers making extensions for phpBB, so it's not difficult to find the style and functionality you're looking for. Of course, if you are a developer yourself (or are willing to hire one), you can write your own extensions using PHP as well.
phpBB Forum Conclusion
If you're looking to create a community where like-minded people can gather to discuss particular topics, a forum can be a perfect place to start. Running a forum can not only create this community, but can also attract new visitors to your site and boost engagement.
To create a forum for your website using phpBB just follow these five steps:
Download and install phpBB.
Register your administrator account.
Set up your forum.
Start creating content.
Customize your forum.
Image credit: rawpixel.