WordPress
Hosting
When searching for Fast WordPress Hosting for your blog (and why wouldn't you want a fast blog), make sure to select the host with a high performance SwiftServer platform. That's A2 Hosting! For page loads up to 20X faster than competing hosts, make sure to host on our blazing fast Turbo Servers.
Save 10% and hostHost for as low as $7.99/month!
Use Promo Code
CODE
to save
10
% off your first invoice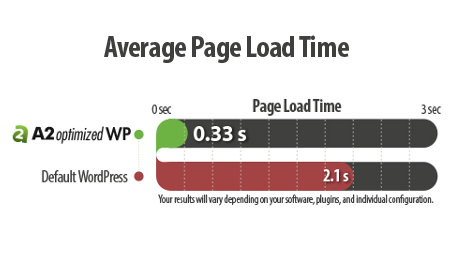 Lite
Swift
Turbo

Recommended

Plan Resources
Solid State Drive Speed Boost
(Complete SSD Solution - Your Files, OS & Database)

Turbo Server: Up To 20X Faster Page Loads - Learn More!

More Resources Per User
Fewer Users Per Server
Enhanced Performance Over Apache

A2 Optimized Caching - Pre-Configured Site Boost

Powered by Turbo Cache
Powered by APC/OPcache
Powered by Memcached

A2 Optimized Software - Pre-Tuned For Performance

Featuring WordPress, PrestaShop, Drupal & More

Performance Plus - Maintain Speed During Traffic Spikes!

$

3

/mo

$

3

/mo
RAID-10 Storage
Unlimited
Unlimited
Unlimited
Transfer
Unlimited
Unlimited
Unlimited
Email Addresses
25
Unlimited
Unlimited
Domains
1
Unlimited
Unlimited
Databases
5
Unlimited
Unlimited
Cores
1 x 2.1 ghz
2 x 2.1 ghz
2 x 2.1 ghz
Physical Memory
.5 GB
1 GB
2 GB
Virtual Memory
2 GB
8 GB
8 GB
Exclusive WordPress Hosting Features
6X Faster Page Loads With A2 Optimized

A2 Optimized Enhanced Security

Integrated ManageWP Account
Free
Free
Free
WordPress with A2 Optimized Pre-Installed

Optional WP-CLI (Command Line WordPress Interface)

- More Flexible & Affordable Than Managed WordPress Hosting!
Built In Caching For Accelerated Speed

Unique Login URL For Enhanced Security

Use Any WordPress Plugin

Easy-To-Use cPanel Control Panel

ReCaptcha on WordPress Login Page & Comments

Host Unlimited WordPress Installs

Automatic A2 Optimized Updates

Use Another CMS On Same Site

SSH & FTP Access

High Speed SwiftServer Features
Server Location Options:
USA-Michigan
Europe-Amsterdam
Asia-Singapore

CloudFlare Free CDN (Avg. 200% Faster Page Load)
Free
Free
Free
CloudFlare Basic - Faster Mobile Speed

$

3

/mo

$

3

/mo

CloudFlare Plus - Faster Mobile Speed, SSL & More

$

8

/mo
Railgun Optimizer (Up To 143% Faster HTML Load Times!)

$

2

/mo

$

2

/mo
Free
HTTP/2

SPDY

Edge Side Includes (ESI)

Easy Websocket Proxy Configuration

10 Gb/s Redundant Network

12 Core Server Minimum

64 GB RAM Server Minimum

Exclusive Web Hosting Features
We'll Transfer Your Site! - Learn More!
Free
Free
Free
Server Rewind Backups

Perpetual Security w/ Free HackScan

Ultra-Reliable Hosting

598 Third Party Verified Reviews
5-Star Average
5-Star Average
5-Star Average
BBB Accredited Business
A+ Rated
A+ Rated
A+ Rated
Hassle-Free Anytime Money Back Guarantee

FutureServe Green Hosting

24/7/365 US-Based Guru Crew Support

Ultra Reliable Hosting
99.9% Uptime Guarantee

CloudLinux OS

Expertly Tuned Servers

24/7 Network Monitoring

Quadruple Redundant Network

Balanced Number of Accounts on Each Server

Redundant Power (UPS/Diesel Generator)

Domains & IP Addresses
Domains
1
Unlimited
Unlimited
Subdomains
5
Unlimited
Unlimited
Parked Domains
25
Unlimited
Unlimited
Addon Domains

Unlimited
Unlimited
Option To Host On Free A2 Hosting Subdomain

Dedicated IP Address

$

4

/mo

$

4

/mo

$

4

/mo
ID Protection

$

9.95

/yr

$

9.95

/yr

$

9.95

/yr
DNS Management
Free
Free
Free
Developer Features
Now Available - PHP 7

PHP 5.2, 5.3, 5.4, 5.5 or 5.6 (Choose Your Version)

Total Databases
5
Unlimited
Unlimited
MySQL 5.6 Databases

PostgreSQL 9.4 Databases

Pre-Installed phpMyAdmin & phpPgAdmin

SSH Access & Rsync

Node.js

Apache 2.2

Compatible
Git, CVS, Subversion & Mercurial

Python 2.4, 2.6, 2.7, 3.1 or 3.2

Ruby 1.8

PERL 5.10

FTP / SFTP

Shared SSL Certificate
Free
Free
Free
Email
Email Accounts
25
Unlimited
Unlimited
Webmail (Horde, Squirrelmail & RoundCube)

POP3 / POP3-SSL

IMAP / IMAP-SSL

SMTP / SMTP-SSL

Spam Protection

Barracuda Advanced Spam Filtering (Optional)

Control Panel
cPanel 11 Control Panel

CloudFlare Content Delivery Network
Free
Free
Free
Softaculous (1-Click Drupal, WordPress & Joomla Install)

Easy Google Apps Setup

Easy Web-Based File Manager

Multilingual Support

eCommerce Features
SSL Certificates Available

Available Instant Merchant Account ID (US Only)

PayPal Merchant Accounts Available

PrestaShop 1-Click Setup

Magento 1-Click Setup

OpenCart 1-Click Setup

Setup Popular Applications With 1-Click
WordPress

Joomla

Drupal

CubeCart

CMS Made Simple

Elgg

B2evolution

Lite
Swift
Turbo
A2 Optimized WordPress Web Hosting
With pre-installed WordPress, you don't have to worry about downloading and installing any software. You'll simply have your blog up and running in no time at all. Your WordPress install is A2 Optimized so it comes pre-configured for the fastest page load speeds. A2 Optimized WordPress means we've already done the research on which WordPress settings provide peak site performance. No more guesswork! That way you can focus on writing content and promoting your website.
A2 Optimized Wordress also auto-hardens your site with a number of security features, like automatic WordPress updates and providing you with a unque login URL, all in an effort to keep your site secure from hacks. It's safe to say our A2 Optimized WordPress Hosting provides the perfect alternative to inflexible and expensive Managed WordPress Hosting.
WordPress Host Questions? We Can Help!
Our servers comes fine tuned and backed by our 99.9% Uptime Guarantee for an ultra-reliable hosting experience. Have any questions? Just ask our 24/7/365 Guru Crew Support team. They're standing by and ready to help! Get started now completely risk free with our Anytime Money Back Guarantee!
What Is WordPress?
Websites with content management systems (CMSs) are popular with small businesses that value versatility and appreciate simplicity. Examples of these CMS solutions are Ghost, Joomla and Drupal. Another CMS that happens to be one of the simplest and most versatile applications is WordPress.
WordPress is a free and open-source CMS with plugin architecture and a system of templates. WordPress, like many CMS competitors, is template-based. The user chooses a theme, customizes it to personal preferences, and the website is ready to go. With many plug-ins and add-ons available, WordPress can create any site imaginable. This versatile software creates commercial, social media, blogs, and special interest websites around the world.
The CMS application is a free download from Wordpress.org or it can come pre-installed from A2 Hosting (we also offer an easy 1-click setup via Softaculous if you prefer). With the latter method, the basic framework of a new WordPress site can be running in a few minutes. Manually downloaded installations can more intricate but a web administrator should be able to get your WordPress site up fairly quickly.
WordPress is free so there are no additional monthly hosting costs except for custom themes, premium plug-ins, and so on, though any additional plug-ins or add-ons consume utility resources. For big photo galleries, shared media files, or large databases users should plan their budgets accordingly.
Why WordPress?
Users don't need much technical knowledge or expertise. WordPress offers search engine optimization-friendly uniform resource locators, resource description framework site summary feeds, post categories, sticky pages, and an interface suitable for nontechnical writers who want to contribute to the content and to queue, schedule, moderate, and protect posts and pages with passwords.
Because WordPress uses templates, edits are quick and easy. The vast template library offers thousands of layout options and variations, and WordPress accommodates no end of adjustments, customizations, and tweaks. With only basic coding knowledge, users can adapt and modify themes for whatever they need.
The WordPress plugin repository provides additional features that can enhance WordPress functionality. Most WordPress websites have at least a few plugins, and some have dozens that users can enable or disable as they wish.
WordPress History
WordPress is a mature blogging/CMS software solution getting its start in May 2003. The founders Matt Mullenweg and Mike Little launched WordPress as a fork b2/cafelog. It has since grown into the most used CMS worldwide largely in part to its pinpoint focus on on user experience and web standards.
WordPress Advantages
As the most used CMS in existence today, WordPress obviously comes loaded with a ton of advantages. Here are just a few you'll experience on this platform:
Most important WordPress components are 100% free providing an affordable experience
Easy to use control panel means an intuitive experience
1-click setup means its easy to install and get started
eCommerce extensible
SEO ready
WordPress is also often updating their software to include the best and newest settings. While this could be viewed as a disadvantage, we offer a 1-click update of WordPress when these updates become available to help keep your site secure!
WordPress Installation
WordPress is a zipped download from Wordpress.org or it comes pre-installed from A2 Hosting. With a one-click installer, the new WordPress site is ready for use within a few minutes. With manual installations a web administrator can activate the site relatively quickly.
WordPress Costs
The WordPress application is free. There are free themes and plugins to get started. Many startup businesses set up their websites with no expenses aside from their hosting and domain costs.
Premium WordPress add-ons incur fees, some for a few dollars or a donation. Others cost hundreds of dollars annually but are mostly for advanced users.
A WordPress website, like any other, consumes bandwidth and may grow over time. The more content, media, and plugins the site has, the more likely resource needs will increase. You should plan and budget accordingly for new expenses as your account grows.. At first, shared hosting works well for most WordPress sites, but most users upgrade their plans when they outgrow their shared hosting accounts, especially ecommerce or business sites.
Why I Should Avoid Free WordPress Hosting
Most free hosting providers incorporate advertising into their services. They might require attribution links or banner ads on user sites or send lots marketing e-mails to sell paid hosting or some other upgrade.

Limited support may actually be the biggest gamble users take with free hosting. Free WordPress hosts often time have a support forum for posting questions, but don't count on quick and helpful responses. With free hosting, support is a matter of luck, not service. Free hosting users get what they pay for.
For a few dollars a month from A2 Hosting, you get blazing fast, ad-free service with amazing support from our 24/7/365 Guru Crew!