Jan 17, 2022
0
by

Kate Meda
If you ask, our sales team will tell you "what's the difference between Managed WordPress vs Shared Web Hosting?" is one of their most commonly asked questions. With just under 40% of the internet powered by WordPress, it's no wonder users everywhere are curious for answers. 
This year, our new WordPress plans are getting a makeover with new features to boost it above and beyond our other Shared Hosting packages. Keep reading to learn what sets them apart. 
What's the difference between Managed WordPress vs Shared Web Hosting?
To boil it down, Managed WordPress plans offer services and performance tweaks specific to WordPress whereas Shared Web Hosting plans are generalist plans that host anything from WordPress to Drupal. But Shared Web Hosting and Managed WordPress hosting are more similar than they are different. 
You see, both plans are managed and come with 24/7/365 support on phones, tickets, and LiveChats and both plans are on shared servers. 
To summarize, 
Shared Web Hosting plans share resources with other sites on the same server.

Managed WordPress plans offer additional WordPress-specific services and tweaks to performance in a shared environment.
Why Use Managed WordPress Plans?
Managed WordPress Hosting offers WordPress-specific services, performance optimizations, customizations, and other valuable add-ons and performance tweaks including:
Jetpack: Jetpack is an all-in-one WordPress plugin. Even the free version of Jetpack is powerful. They have 1-click site speed optimizations to increase your SEO, brute force protection by blocking unwanted login attempts from malicious botnets, and automated spam filtering. 

Less users per server.

Faster plans (with 4x more physical memory than our Shared Hosting packages)

A2 Optimized and LSCache settings to speed up your website. 

WordPress Toolkit for easier site management.
Why Use Shared Hosting Plans?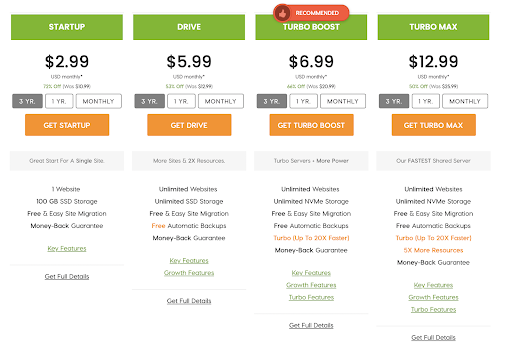 Shared Web Hosting is an affordable option to hosting your website. It's especially beneficial for new or lower traffic websites. With a typical shared hosting plan, to keep the costs low you're sharing the server with other users. This means if something happens to one site on the server, your site may be affected. Luckily here at A2 Hosting, we don't overload our servers with thousands of users on one server. This mitigates that risk. 
The Pros and Cons of Managed WordPress Hosting
Pros of Managed WordPress Hosting
Server architecture finely tuned specifically for WordPress 

Auto-testing any new updates to find potential issues before the updates go live.

Automatic updates for WordPress. 

Built-in server-level caching

Free Jetpack license for your primary domain

Site staging 

cPanel

LsCache, one of the fastest caching agents on the market

A great in-between plan if you aren't ready to upgrade to a VPS yet
Cons of Managed WordPress Hosting
Managed WordPress plans are inherently more expensive due to more features

Stricter limits/caps on resource usage

Limited to hosting only WordPress sites 
The Pros and Cons of Shared Hosting
With everything, there's a pros and cons list. Here are a few for Shared hosting:
Pros of Shared Hosting
Less expensive way to host WordPress

The ability to host unlimited websites

Still has significant performance perks like our Turbo Boost and Turbo Max plans

Easy to seamlessly upgrade within the Shared ecosystem

Site staging

cPanel
Cons of Shared Hosting
Can be slower than their Managed WordPress counterparts 

Jetpack isn't included

Lack other performance-tweaking WordPress customizations
Which plan is better for WordPress?
There isn't a single answer for this question. Only you know what's best for your website and your needs. The best way to decide is to analyze what you need. Which plans will help you get to where you need?
To help you decide, consider the following:
Are you going to host websites other than WordPress?

If so, the decision is easy–stick with Shared Web Hosting packages. 
Do you need all of the WordPress-specific customizations or is your site simple enough to get by on a Shared Web Hosting plan?
What is your budget?

Shared hosting plans are less expensive, but Managed WordPress plans have additional power and features that may be worth the investment. If the features sound nice enough to pay a little extra every month, consider it.

Do you need automatic updates?

WordPress updates automatically on our plans. Installing the latest versions of software means your site is as secure as possible. If you don't need automatic updates, Shared hosting packages may be the better choice.

How much traffic do you have?

If your website is small and discreet, starting out on a Shared server is probably the best option, at least for a while. You can always upgrade to a Managed WordPress plan at any time. Smaller is always better to start. Then, scale up your needs as your business grows.
Also, consider this: the Managed WordPress plans are the best in-between plan if you need more resources than a Shared hosting package, but less than a VPS. If you're unsure, as always, contact our sales team today to find out which plan is best for your needs. 
Whatever plan you decide is best for you, it's a personal decision and we support you either way.
Related Articles: