Oct 26, 2018
0
by

A2 Marketing Team
If you want to build an online presence or attract customers, it's critical to have a site that looks professional. If there's a specific style you want for your Drupal website, you might have thought about hiring a designer to build you a custom theme. However, doing that can be quite expensive.
Fortunately, there's a wide variety of ready-made themes available for purchase. If you want a site that looks compelling on a budget, using the right Drupal theme can help you out. There are themes available that meet just about every need. You can even find a theme that's close to what you want, and hire a designer to tweak it at a lower cost than having one designed from scratch.
In this article, we'll explore some of the best places to obtain sleek, functional Drupal themes. Let's get going!
The Importance of a Professional Drupal Theme
If your Drupal website is the online face of your business, it's critical to have a professional theme. In Drupal, your theme affects nearly every aspect of your website: functionality, appeal, and even Search Engine Optimization (SEO).
Most importantly your site's theme does a lot to determine its layout and appearance. You'll want to use a theme that will create a strong first impression for visitors. At the same time, you can achieve varied results with the same theme by incorporating custom CSS or changing a few settings.
However, it can be difficult to choose a theme from the many options that are available. It's also crucial to get one from a reputable source – the wrong theme can slow your site down, expose it to security risks, or even break it. We'll introduce some of the websites you'll want to check out in a moment. First, however, let's talk about how to select the right Drupal theme.
What to Look for in a Drupal Theme
Now that you know why your theme is important, let's go over some things to look for when picking one out. To help you narrow down your search, and avoid choosing a problematic theme, you'll want to consider:
Security. Just because someone is selling a theme doesn't mean they have written secure code. Quality themes avoid leaving vulnerabilities open that could help hackers target your site more easily.
SEO. If you want your site to rank highly in search engines, you'll need to look for themes with SEO features built in. Your site's SEO can be affected by the way a theme is structured, whether it's optimized for speed, and if it's responsive.
Custom features. Before buying a theme, make a list of any custom features you want, such as a portfolio builder or video integration functionality. Make sure the theme you choose has those options, or that you have room in your budget for custom alterations.
Responsiveness. Over half of all web traffic comes from mobile devices, and responsive themes will automatically adjust for size when viewed on a mobile device. They may also be optimized to load faster on mobile devices, which is a must since mobile users tend to be impatient.
Bootstrap. If your site requires flexibility in layout from page to page, Bootstrap is a very helpful tool. Therefore, you'll want to search for themes with Bootstrap included, so you can change up the layout later.
Appearance. Finally, make sure you like the theme's basic look and style. Of course, keep in mind that you'll be able to adjust aspects like colors, fonts, and some parts of the layout.
There's a lot of subjectivity involved in choosing a Drupal theme, but you'll also want to pay attention to the more objective factors. Changing your site's theme down the line can create various problems, so it's best to take your time and explore everything that's out there.
The 4 Best Places to Purchase Drupal Themes
As we mentioned earlier, it's important to purchase Drupal themes from trusted sources if you want to find one that meets all the above criteria. Let's take a quick look at four of the best places to start your search.
ThemeForest is a marketplace with products from lots of different developers (and designed for many platforms). It offers over 500 Drupal themes, which are searchable by price, ratings, date of creation, and number of downloads. You can also search for themes by using tags, such as "responsive", "business," or "blog."
ThemeForest also provides fraud protection, customer service, and a strong refund policy. All in all, it's the number-one place to begin your Drupal theme search.
Another theme marketplace, TemplateMonster hosts over 300 Drupal themes. You can search by features, such as "responsive" and "portfolio," as well as by categories like "Food and Restaurant" or "Design and Photography." The site also has a handful of free Drupal themes you can try.
What's more, TemplateMonster has a refund policy to protect you from misleading themes. There are also helpful customer service options, to guide you through basic customization and installation if needed.
Next up, Adaptive Themes is a trusted Drupal theme developer. Since this site is owned by a single seller, there's a much smaller selection of themes than on a marketplace like TemplateMonster or ThemeForest. However, the themes offered are all of high quality, and provide a wide variety of styles to choose from.
All of the themes on this site are SEO-optimized and responsive, and there is customer support available for any of them. Adaptive Themes also offers a competitive pricing scheme. For $45 per year, you can receive unlimited access to every theme on the site for unlimited domains. Of course, themes are also available for individual purchase.
In addition, Adaptive Themes offers a refund policy, although it requires that you first give the developers a chance to resolve any issue you're having with the theme. It also includes full demos, so you can preview a theme before purchasing it.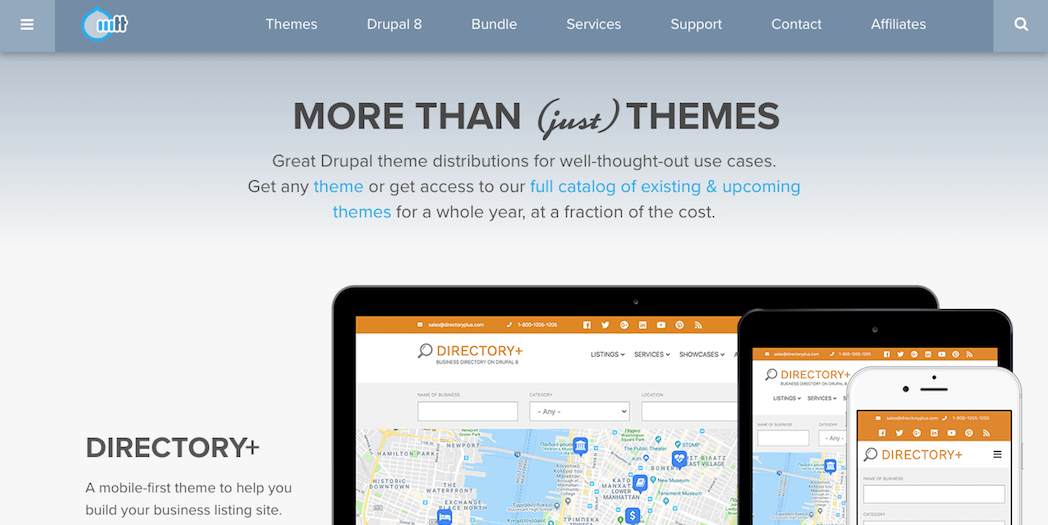 Finally, More Than Themes is another single seller, with 34 high-quality themes available at the time of this writing. All of them are optimized for mobile devices, and include a library of free fonts. Like Adaptive Themes, More Than Themes is a trusted Drupal theme developer.
In particular, this site offers an excellent deal for web developers working on multiple sites. For $299 per year, you can receive unlimited access to any of its themes, as well as priority support. If you're on a tight budget, you can also check out More Than Themes' selection of free options.
Drupal Template Conclusion
If you want to create a well-designed site without spending a fortune (in time or money), having an excellent theme is a must. Themes can help improve many aspects of your site, from SEO optimization and page speed to aesthetics.
To find the right theme for your site, we'd recommend checking out one (or all) of these sellers:
Image credit: Pixnio.