Feb 13, 2020
0
by

A2 Marketing Team
Deciding what webmail application you want to use can be a difficult process. That's especially true if you're looking for something reliable that has integrated security standards, and gives you the option for multiple sender identities.
The good news is that RoundCube may be what you are looking for. Offering a wide range of features, RoundCube is also easy to understand and provides a user-friendly interface. For those and other reasons, it's become a popular application for personal, business, and educational use.
In this article, we'll look into RoundCube's background in more detail. Then we'll check out why its features can make it such a useful tool. Let's get started!
An Introduction to RoundCube
Webmail differs from traditional email, as it's hosted by an external web server. RoundCube is an excellent example of that technology in action. It's open-source software that operates like a desktop application:
First released in 2008, RoundCube is a free browser-based Internet Message Access Protocol (IMAP) email client application. Due to its age, it's had time to develop and offer users a smooth experience.
One of RoundCube's primary selling points is that it's a user-friendly option with an intuitive, easy-to-navigate interface. Moreover, it allows for customization with plugins, offers multilingual support, and provides ample privacy protection.
To make things even easier, here at A2 Hosting RoundCube is already integrated into our hosting service. Thanks to server reliability you can count on, you can rest assured that you won't miss a single email.
4 Key RoundCube Features (And How They Can Benefit You)
When looking for a new webmail host, you'll undoubtedly have certain requirements in mind. That may leave you wondering if RoundCube offers what you need. With that in mind, let's take a look at four of this application's key features.
1. Drag-and-Drop Support
As we mentioned earlier, RoundCube is designed to be easy to use. One example of this philosophy in action is RoundCube's drag-and-drop editing.
This drag-and-drop feature helps to facilitate email management. With only a click, you can move emails around and organize your folders. Rather than having to navigate through various steps, you can simply drag-and-drop folders and emails wherever you like.
This also works if you need to move a group of emails simultaneously. You can select multiple emails, and drag them to where they need to be. Likewise, RoundCube lets you quickly move folders, adjust archive settings, and so on.
2. A User-Friendly Interface
One of the biggest advantages of using RoundCube is its user-friendly interface. This particular solution places an emphasis on being simple, easy to use, and intuitive to navigate. Let's look at a few things that help to make it that way:
Multilingual support, with availability in over 80 languages
The ability to search messages and contacts alongside a threaded conversion view
Find-as-you-type functionality and a spell checker
Multi-device support, including mobile devices
You also get the benefit of other quality-of-life features, such as attachment previews. That can help to ensure that you are sending the right files. Plus, you can program specific keyboard shortcuts that enable you work faster and more efficiently.
3. Security and Privacy Protections
Security in email is vital. Roughly 82 percent of organizations experience some form of a threat to their email systems at some point. If your email security is breached by a phishing scam, you could face unfortunate consequences.
Many businesses report a decline in employee productivity, loss of data, and adverse financial impacts due to recovery costs and reputation damage. Fortunately, RoundCube has security measures in place that can lower your risks.
This includes support for Pretty Good Privacy (PGP) email encryption, protection against brute-force login attempts, and Cross-Site Scripting (XSS) attack protection. All of these add up to provide extra layers of defense for you and your business.
4. Canned Response Templates
Different business often require specific email features, such as address books with groups or Access Control Lists (ACLs). However, having access to canned response templates is important for improving your workflow, regardless of what industry you're in.
A canned response template means that you simply have to click a button in order to insert a pre-written response into an email. This can be particularly useful for customer support agents looking to streamline replies. It saves everyone from having to create the same responses from scratch over and over again.
RoundCube provides you with these templates and makes them easy to use, so you don't become bogged down by replies. This way, you can spend your time focused on what matters to your business.
How to Get Started With RoundCube
If you've decided that RoundCube is the webmail server for you, then your next step is ensuring you have the right host. After all, while the software for RoundCube is free, you'll still need someone to host it.
When picking a host, try to ensure that it's compatible. It must use Apache, Lighttpd, Nginx, Cherokee, or Hiawatha as web server technology. Just as important, you'll want to look for a host that offers several plans to pick from.
For example, at A2 Hosting we offer various RoundCube hosting solutions, based on your business' specific needs: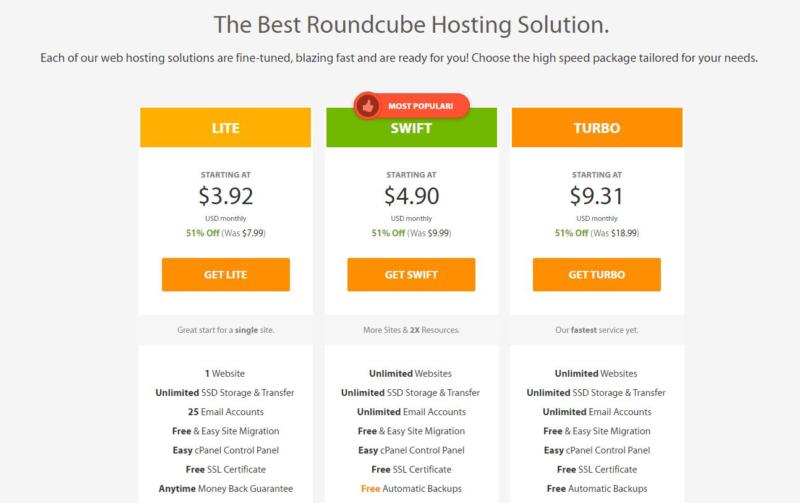 Plans start at just under $4 per month, and cap out at under $10 per month. That way, you're covered for whatever you need. Whether that's a single or unlimited account, or even regular or turbo speed, you can get it. RoundCube comes pre-installed, so you'll be ready to email to your heart's content.
RoundCube Conclusion
With so many options available, finding the right webmail application can seem overwhelming. Of course, you'll want something that offers a host of useful features, including ease of use and security.
With that in mind, RoundCube is an excellent choice. Let's take another look at how RoundCube can benefit you:
It offers drag-and-drop support that facilitates email management.
The interface is user-friendly and easy to use.
There's a package of vital security and privacy protections.
You can streamline your workflow with canned response templates.
Do you have any thoughts or questions about using RoundCube as a webmail application? Let us know in the comments section below!
Image credit: Noelle Otto.