Jan 13, 2021
0
by

Ryan Flowers
Running a successful WordPress website can take a lot of hard work. As your site grows, it may become difficult to keep up with the day-to-day admin and maintenance required to create a stable, high-performing website.
Thankfully, there are tools that can simplify these essential website management tasks. This gives you more time to concentrate on growing your website.
In this article, we'll share nine ways that cPanel can simplify your website management. We'll show you how to perform all the most important WordPress management tasks, and even how to manage multiple sites from a single cPanel dashboard. Let's get started!
What Is cPanel (And Why Is It Important?)
cPanel is a web- and Linux-based Graphical Interface (GUI) and management system. Using cPanel, you can perform a range of hosting-related tasks. This includes organizing files, creating email accounts, and managing domains.
You can use cPanel to manage multiple websites from a single user interface. This makes cPanel a popular choice for WordPress agencies who need to manage multiple clients, affiliate marketers, and hosting resellers.
There are several control panels available for WordPress. However, cPanel is one of the most popular, with cPanel claiming that over 70 million sites are managed using their software. To help meet the needs of our customers, at A2 Hosting we offer cPanel with all our hosting accounts.
Although we'll be focusing on cPanel throughout this article, cPanel has two user interfaces. These interfaces are cPanel and Web Host Manager (WHM), which is a server management interface. WHM is particularly useful for launching your own reseller hosting business, as it enables you to perform essential reseller tasks, including creating your own hosting packages.
How to Access the cPanel Dashboard
At A2 Hosting, we provide cPanel with all our hosting packages. This ensures our customers can manage their websites, without having to configure additional tools.
If you're already an A2 Hosting customer, there are several ways to access cPanel. You can log into the A2 Hosting client area, then select cPanel Login.
Alternatively, you can access cPanel by heading over to your website and appending :2083 to your URL. For example, if your website is www.mysite.com, you can access cPanel at the following: www.mysite.com:2083.
You can also access cPanel by adding /cpanel to the end of your URL. For example, www.mysite.com/cpanel.
If your site is new there's a chance the Domain Name System (DNS) records may have not yet propagated on the server. If none of the above techniques work, you can access cPanel using your website's IP address. You can find your site's IP address by logging into the A2 Hosting client area, then selecting Account Details.
This will open the Product Details screen, which contains your IP address. You can access cPanel by entering this IP address, and again appending :2083 to the full address.
9 cPanel Tips to Simplify Your Website Management
You can use cPanel to perform a range of essential website management tasks, so let's explore some of them! Here are nine ways that cPanel can simplify your day-to-day website admin.
1. Install Applications to Your Server
Applications can be useful for adding extra features to your website. Other applications can help simplify common tasks, or provide useful data such as visitor analytics.
You can install applications on your website or hosting account from the command line. However, this isn't the most user-friendly approach, and the command line is only useful if you already know which application you want to install.
Auto-installers such as Softaculous automate the installation process using predefined scripts. There are various auto-installers available, but at A2 Hosting we provide Softaculous to all our customers. It's a popular script library that features hundreds of scripts for open source and commercial web applications.
They also typically provide a GUI for browsing the available applications.
You'll select the application that you want to install, and enter any information required to configure this application. The auto-installer will automatically organize the database configuration, user permissions, web, and server files. It will then install the application in question. This can make it significantly easier to add applications to your website, while also reducing the possibility for human error.
Using Softaculous, you can explore categories of web applications ranging from social networking, to advert management, e-commerce, and customer support. You can often install these applications with a single click. Even if additional configuration is required, Softaculous will prompt you to enter the necessary information via its graphical user interface.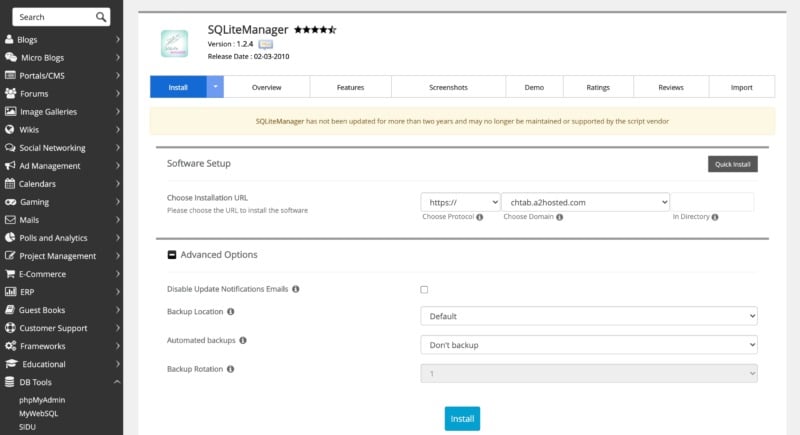 Even for complex applications, you can often complete the necessary configuration and add the application to your server within seconds. The cPanel dashboard will also prompt you to install any available updates. Even if you install a long list of applications, this makes it easy to ensure all your applications are kept up-to-date.
2. Manage Multiple Domains From a Single cPanel Account
Sometimes you may want to operate multiple websites. Instead of purchasing a separate hosting account for each domain, you can add multiple add-on domains to the same account. You can then split your account's resources between these various domains. This can save you money, and also provides a central hub where you can manage all your domains.
You can add domains to your hosting account, using cPanel's Addon Domains tool:
In New Domain Name, type the domain that you want to add. After entering this information, cPanel should populate the Subdomain and Document Root automatically.
If you want to use File Transfer Protocol (FTP) with this domain, select the Create an FTP account associated with this Addon Domain checkbox. You can then select Add Domain, and cPanel will add this domain to your hosting account. You can repeat these steps, to create multiple add-on domains.
3. Verify Your Analytics
Monitoring your website is essential for providing the best possible visitor experience. By analyzing important metrics such as traffic and visitor behavior, you can continuously identify opportunities for improvement. This can help you create a plan for growing your audience, driving conversions, and increasing your revenue.
There are several monitoring tools and platforms available for WordPress, including Google Analytics. However, these tools often require a significant amount of setup.
cPanel provides its own Advanced Web Statistics (AWStats) tool that you can use with zero setup. AWStats is an open-source analytics tool that provides data on traffic volume, source, and the type of traffic. AWStats also provides detailed information about the people who visit your site, including their Operating System (OS) and web browser.
This information can help you monitor your site's performance, even if you're not using a dedicated analytics platform. However, you can also use AWStats to verify the information in third-party tracking tools, including Google Analytics.
Google Analytics can provide a wealth of information, but this data isn't always accurate. AWStats is based on the log files created by your web server. This means AWStats is typically more accurate than tools such as Google Analytics.
Most notably, Google Analytics relies on cookies in order to collect visitor information. Data regulations such as the General Data Protection Regulation (GDPR) and Cookie Law mean that many visitors now need to opt into cookies. With many people worried about online privacy, a significant portion of your visitors may choose not to allow cookies. This can interfere with your Google Analytics data.
AWStats doesn't rely on cookies. While AWStats isn't as comprehensive as Google Analytics, it can be a useful resource for determining whether your Google Analytics data is accurate.
4. Manage Your Files
WordPress has a built-in media uploader that you can use for common resources such as videos and images. You can also upload themes and plugins via the WordPress admin dashboard. However, sometimes an error on your site may prevent you from uploading a particular resource using WordPress' built-in features. In these instances, uploading a file manually may help you troubleshoot the problem, or even fix the error you're encountering.
You could upload and manage your files using the File Transfer Protocol (FTP). However, FTP can be difficult for anyone who isn't already familiar with the protocol.
cPanel's File Manager provides an accessible GUI. This can make it easy to upload files to your server. To launch this tool, select File Manager from the cPanel dashboard.
You can then select the Upload tab, and choose the files(s) that you want to upload. Alternatively, you can create files directly within your website's file system. This can save you a considerable amount of time when working with simple files.
5. Monitor Your Website's Performance
Performance can have a huge impact on your site's success. Studies have shown that almost half of visitors abandon a site that takes longer than three seconds to load. However, any delay can have a negative impact on bounce rate. Studies suggest that as page load times increase from one to three seconds, the average bounce rate increases by 32 percent. If your site is slow to load, you'll struggle to attract and retain an audience.
Google also uses page speed as a ranking factor. If your site isn't performing well, it could negatively impact your Search Engine Optimization (SEO). This can reduce the number of people discovering your site for the first time, and stall your website's growth.
To help retain and grow your audience, it's important to monitor your site's performance. This helps you resolve issues before they cause too much damage.
You can evaluate your site's performance using cPanel's Resource Usage tool. This tool can help you identify any applications or services that are hogging your resources. This tool can also help you gauge whether it's time to upgrade your hosting package. This is particularly important if you're experiencing an upsurge in traffic.
In cPanel, select Resource usage. You'll now see a summary of your account, including information about any performance issues your sites have experienced in the past 24 hours. You'll also receive a warning if your site is about to hit its resource limits.
You can view resource usage information for the current day by selecting the Current usage tab. This displays a series of graphs including processes, CPU usage, and physical memory usage.
Creating and analyzing snapshots can also be a useful way to troubleshoot performance issues. To get started with usage snapshots, select the Snapshots tab.
6. Create Additional MySQL Databases
Every time someone visits your site, they make a request that's sent to your server. The PHP programming language receives this request, retrieves the necessary information from a MySQL database, and presents this information to the visitor.
When you install WordPress, it prompts you to create a database by providing a database name, host, username, and password. However, you can also create a database manually using cPanel's MySQL Database Wizard. This can be useful if you're migrating to a new host, or building a test website.
To create a new database, select MySQL Database Wizard from the cPanel dashboard. You can then follow the instructions to create a database, and add a new user with All Privileges.
At some point you may want to review all the databases you've created. You can either use cPanel's MySQL Databases tool, or phpMyAdmin. Both of these tools are accessible from the main cPanel dashboard.
If you select phpMyAdmin, you'll see a list of all your databases. You can also use phpMyAdmin to perform a range of database-related tasks, including adding triggers, and exporting your database.
7. Upgrade (Or Downgrade) Your Version of PHP
As with all software, new versions of PHP can introduce security updates, performance improvements, and new features. To ensure you're benefiting from these improvements, we recommend running the latest version of PHP. You can update PHP using cPanel's Select PHP Version module.
You can also use cPanel to downgrade your PHP version. PHP can impact how your website functions, particularly if you're using third-party themes and plugins. The code running in WordPress themes and plugins may use older functions that are no longer supported by newer versions of PHP. This can cause problems with your website.
Although we'd always recommend opting for plugins and themes that are compatible with the latest technologies, A2 Hosting servers support multiple versions of PHP. If you rely on a particular theme or plugin, you could use cPanel to temporarily downgrade your version of PHP.
When downgrading, we recommend notifying the plugin or theme's developer about their PHP incompatibility. You may also want to look for an alternative theme or plugin, rather than running an outdated version of PHP indefinitely.
To upgrade or downgrade, navigate to the main cPanel dashboard and then select PHP Version. Your current version of PHP will be displayed along the top of the page. Now, select Current PHP Version, and choose a version of PHP from the list:
Here, you can also configure a range of PHP-related functions, by selecting the Options tab. These settings include specifying the maximum number of files that you can upload simultaneously, and the amount of memory a script can allocate.
8. Create a Backup with cPanel
It's important to backup your WordPress website on a regular basis. If you encounter any issues with your WordPress website, a backup can be essential for resolving the problem. For example, if your site gets infected with malware, you can restore a version of your site that pre-dates infection.
Backups can be vital in the worst case scenario where someone hacks into your site and deletes all your content. Without a backup, you could lose months or even years of hard work, with no hope of recovering the lost data.
You can create your backups using cPanel. In the cPanel dashboard, select Backup Wizard. You can then download a compressed copy of all your website data. This includes your home directory and all your MySQL databases.
To start the backup process, select Back Up. Now, choose to either backup all the files on your website, or create a partial backup consisting of either your home directory, MySQL databases, or email forwarders and filters.
You'll typically only create a full backup if you plan to move your account to another server. Note that if you do create a full backup, you'll be unable to restore the backup using the cPanel interface.
Make sure your selection, and the Backup Wizard will create your backup. For added protection, you may want to consider uploading this file to an offsite data storage provider, rather than storing it locally on your computer.
9. Password-Protect Sensitive Directories
Security is a huge concern for many WordPress users. If someone manages to gain access to your WordPress file system, they could wreak havoc across your website.
There are ways to recover a hacked site. For example, you could restore a backup that pre-dates the attack. However, even if you do manage to recover your site, it will typically require a significant amount of work – and there's no guarantee your efforts will be successful. By taking steps to protect your site now, you may save yourself a considerable amount of time and effort in the long run.
cPanel provides a range of security features that can help keep your website safe. This includes password-protecting sensitive directories.
Passwords can be particularly useful if you share your site with other people. This includes partners, freelance developers, and contributors. You can use password-protection to control which sections of your site these people have access to.
If the business relationship turns sour, these passwords can limit how much damage the disgruntled third party can inflict on your website. Passwords can also protect your site against accidental damage. For example, a co-worker who isn't particularly tech-savvy may accidentally delete an important file or folder.
You can password-protect any part of the WordPress file system, using cPanel's Directory Privacy. However, we particularly recommend protecting the public_html/wp-admin directory. This directory contains important files, but by default any third party can request access to your wp-admin folder.
To set up password protection, select Directory Privacy from the main cPanel dashboard. This should launch a new tab where you can explore the WordPress file system.
You can now navigate to the folder in question. Give this folder a click, and Directory Privacy will prompt you to create a password.
Conclusion
Running a successful WordPress website isn't easy. All of your day-to-day admin tasks can leave you very little time to focus on creating new and exciting content for your website.
Thankfully, tools such as cPanel can take much of the pain out of WordPress management. This includes tasks such as:
Installing applications to your server.
Managing multiple domains from a single account.
Creating backups.
Password-protecting sensitives directories.
By opting for a hosting provider that offers cPanel as standard, you'll have guaranteed access to a range of powerful and efficient website management tools. This can free up more time to focus on what really matters: creating great content, and growing your audience.
Image credit: Pixabay.